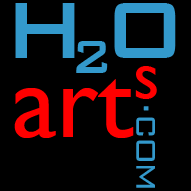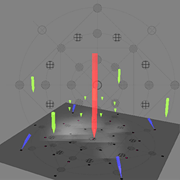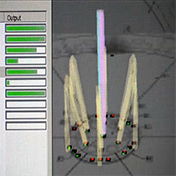 The H2Oarts simulator supports the elements of most water features, including submersed RGB lights, CMY lights from above, arching and articulating jets, fog, multi-level basins, digital on/off devices, and devices with more than one control channel such as a water switch and corresponding VFD. Originally developed in conjunction with Gilderfluke show control systems, it now supports any DMX-in source.
Flash/Shockwave suppport has been diminishing due to HTML 5 and wars amongst the tech giants. It is no longer likely to run on in browsers, so to interact with an example, download and uncompress standalone players: H2OartsSimulator.zip for Windows (allow and run as Administrator), and H2OartsSimulator.app.zip or H2OartsSimulator.app.7z for Mac (untested). The simulator is designed to run live in conjunction with DMX apps, but this standalone version is handy for development and review purposes. Follow the directions on the interface for live control of 3D views and to replay.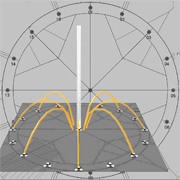 The man wants to
hublot replica uk
watches at justifiable prices. It's wearable, expressive art for men—just the type of items that make for some of the best retail therapy. Alas, if only the
rolex replica uk
was here already. The Dietrich website gives the promise of a delivery "beginning June, 2018," so hopefully it comes soon. On June 2nd, it had the
replica watches uk
. The long-time watch and jewelry store is part of a group of professional and family-owned retailers which I greatly admire for their service and friendliness. What makes the
rolex replica watches
the company has Watch Fairs in other stores it owns in places such as
rolex replica uk
is that it occurs during the same time as the Princeton University Reunion weekend.